Massage table Camino Treatment, Agate Blue
Welcome our latest novelty – a stationary massage table Camino Treatment!

It has much more functions and it is more convenient for clients and professionals!

To make the cosmetological procedures more comfortable for clients with maximum convenience for the work of a professional - this is the main goal of designing a new stationary salon massage table Camino Treatment!

The advantages for customers are obvious:

Table length - 198 cm,
Bed width – 69 cm,
Backrest reclining angle adjustment – 0-80°.
Knee section adjustment option.
Upholstery thickness 6 cm.
Working weight 205 kgs.
The client's comfort is a vital part of an effective massage, tattoo or a SPA procedure. However, SPA salon professionals know how important it is to work with contemporary equipment.
For this very reason a professional salon massage table is supplied with:

an electric drive, that regulates the height of the massage table;
pneumatic adjustment of chest and leg sections;
is supplied with levers for foot and hand table adjustment regulation, a cushion and an ergonomic face hole;
metal holder for paper towels;
the SPA bed frame is made from metal.
In order to fully enjoy your work, you can choose and buy a massage table right now.

Massage table Camino will delight you with its reliability and functionality, which means positive reviews of customers about your salon.

Massage table Camino Treatment, Agate Blue
1345,00 EUR
In stock!
| | |
| --- | --- |
| Electric | Yes |
| Size | 198x69 cm |
| Height | 45-95 cm |
| Color | Agate Blue |
| Max. weight | 205 kg |
RESTPRO
| | | |
| --- | --- | --- |
| | SOPHISTICATED TO EVERY DETAIL | |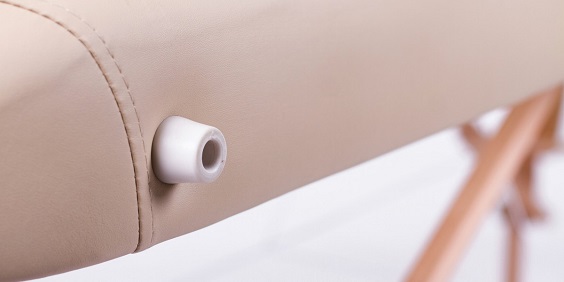 Filling "Memory Foam"
6 cm thick double-layered filling is composed of:
1,5 cm "Memory Foam" – causes no pressure on the body parts in contact with it (shoulders, hips), but they adjust to the body by supporting it correctly and creating a feeling of weightlessness.
4,5 cm "Hard Foam" – longevity. The foam remains unchanged for years, while the Standard filling of the tables starts deforming already in the first year of use.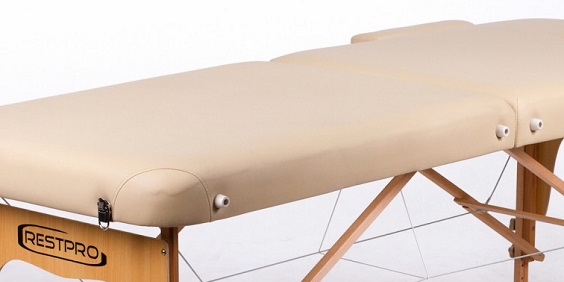 "Skin Touch" cover

sturdy ecological leather "Skin Touch" is not only soft in contact, bet also very long-wearing in comparison against the vinyl PVH, which is usually used for lining of the massage tables. Vinyl PVH cover starts crackling and disintegrating already after a year of intensive use, while the eco leather "Skin Touch" starts wearing down much later.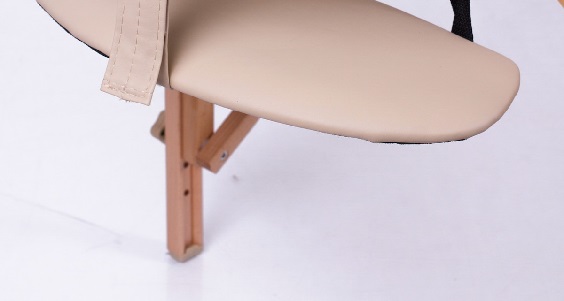 Reinforced frame

base and legs of the table – in 4 places reinforced with additional rails, but the connecting loops have been screwed to the frame through the entire length of the connection, which allows being sure about stability of the table. The cheap tables sometimes start bending and wobbling – performing of massage on a table like that becomes uncomfortable for both – the master and the client. Bending can be prevented by installing additional railing under the plate of the table, but in order to prevent wobbling the sections shall be fixed by bolts in all their length.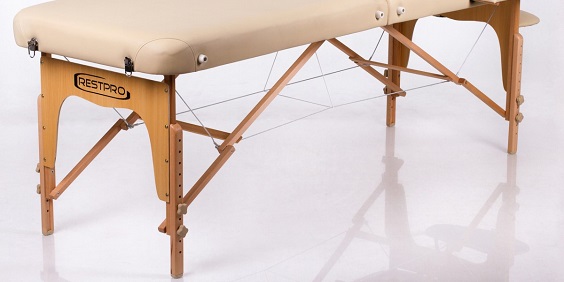 Not slippery

kleg ends of all cheap tables are made of plastic, which makes the table slippery on flat surfaces, like tiles or laminate, which means that while you are performing the massage, the table is moving back and forth. While with "Memory" it is very different – rubber ends of the legs serve as "brakes" – they stick to slippery floor and provide for stability.
ON RESTPRO TABLES
MASSEURS
COSMETOLOGISTS
TATTOO ARTISTS
EYELASH & BROW MAKERS
RESTPRO
| | | |
| --- | --- | --- |
| | WE ARE PROUD OF OUR CLIENTS | |
Mul on püsimeigi meistrina 20 aastat staaži. Väga mugav lauake, väga suur tööpind, millele saab mahtuda ükskõik missugune aparaat. Suurepärane lamp, millel on kolm režiimi, ja ma kindlasti ostan oma uute stuudiosse just sellised lambid. Noh, ja loomulikult väga mugav kušett, mis on oluline nii meie kliendi, kui ka meistri jaoks.
Valida Mamedova

I really enjoyed the equipment. Everything was great and very comfortable. It was easy to work and we are very grateful to you. Thank you very much.

I am a master from Riga. I liked the products that were presented at the Permanent Makeup Days con-gress. I enjoyed the table and the makeup cart: it is wide enough, a lot of things fit in there. I also liked the lamp. I think I will definitely get both the lamp and the makeup trolley in the nearest future. In ad-dition, the chair is very comfortable for the back.
Gunel Salimova

I wanted to express my compliment and gratitude, because there were really comfortable conditions for the participants. First of all, it was the furniture, on which we actually laid out our expensive, fa-vorite equipment. Then, the couches for our favorite customers – they were very comfortable, as well as the chairs, light, amenities. It felt like I was in my office. It was all very comfortable and beautiful, and we thank you for that.
Natalia Tishkova

I am the brand director of the iColor brand. We held the second Baltic competition in Riga, on August 9, and Morex company was the main sponsor of this event. It was very convenient for all the girls to work with the table and the trolley. There was a very large space, a nice shelf. The girls could put on it any of their equipment, which they use in their work. Masters usually use the devices of completely different sizes, so it was great that any device could be placed on this table and trolley. The couches are assembled very easily, and even two girls can manage to do it. It takes just about 5 minutes to as-semble and disassemble the equipment.
Natalja Koldomova

I am the director and trainer of the company Prof Cosmetics. We purchased Restpro couch for our indi-vidual trainings, for cosmetologists with medical education, without medical education, for hand position-ing, as well as for master classes at our seminars. We are very pleased with the couch due to the fact that, for example, I am a very tall girl and it is very convenient for me to work with it, since it is possible to ad-just the height of the couch. Moreover, the couch is very mobile, so it is very easy to transport it to the exhibitions and master classes that we organize in hotels and special clinical institutions. We are planning to purchase at least 5 more couches, as we are going to open a separate room for master classes.
Christina Yacobsone

Hello. I am a cosmetologist at Hema Group. Since the Hema Group company is training young profes-sionals, the couches we use should be mobile and easy to transport. We have already been using these couches for a long time at exhibitions, seminars, and outdoor events. They are very comfortable, compact and reliable.
Hema Group

Hello! I am a trainer at Ericson Laboratorie and present Ericson cosmetics - both professional and for home care. I would like to say some nice words about the mobile couch - it is profitable and conven-ient. During the exhibition we can be mobile – the couch can be folded and moved to any place, but the most important thing is that it can be used for professional procedures. It is good for me also be-cause I am a trainer and I take it with me when going to the salon, a client's home or a spa center. It is comfortable to use – it is convenient, lightweight, not heavy and even a delicate girl can assemble it.
Ericson Laboratorie

Hello! You are at the Baltic Beauty exhibition. We are Beauty 4 Eyes, we offer professional courses and training programs in the field of lamination and eyelash extensions, as well as courses for eyebrow mas-ters. Our partner, RESTPRO company, always helps us in this area. We use their couches because they are very portable and comfortable. They are also very convenient for use in classrooms - if the group is large, you can quickly unfold the couches, and if there is a seminar where the theoretical part is taught, then you can easily put the couches away and use the rooms for different purposes. Many thanks to our partners! We hope that our customers will also appreciate these products in the future.

We enjoy the products we have purchased from RESTPRO very much. My colleague and I have bought a beauty couch and a chair, all the products are qualitative and we are happy to use them. We highly recommend RESTPRO products and we suggest you check them out!
Beauty salon WDR Baltic

We have been actively using it for 4 years already, when we equip the cabinets in this way, because it is convenient for various masters: lashmakers, cosmetologists, as well as for waxing and even for hardware pedicure. Its value for money is also very good. The width of the couch is comfortable, and we enjoy its adjustable height, because the masters have different height, so it is great that you can adjust it for everyone. The backrest is adjustable as well. Some masters need the client to sit, some need him to be in almost lying or reclining position. This couch is suitable for any position of the client. This is a perfect solution for every master. Moreover, it is easy to carry it from the car to the salon, to your home, anywhere.
Beauty salon Lanastyle

I am Alla, a model from Tallinn. I spent 3.5 hours on the table. It was called RESTPRO. It was comfortable. I even managed to get some sleep.
Alla, Tallinn

My name is Irina Ronīte and I organise a championship of eyelash extensions and eyebrow forming Kolibri EUROPE.
I would like to say that the tables are very comfortable. Very light. The work of masters – lashmakers is very easy because of the aluminium legs. They can sit don freely, comfortably. The back is straight. Models also feel very comfortable lying down. The beds are soft enough. Let's say that they are moderately soft.
Irina

My name is Melisa. I'm a contestant of the competition Baltic Beauty in the nomination eyelashes extensions. Eye lashes were grown on the RESTPRO tables and they were comfortable, time flew by unnoticed.
Melisa